I am proud to share HEC Montreal's
lipdub
entry for the 2012 MBA Games. I am so honoured to have been a part of this project. You can view the video
here
or click on the image below.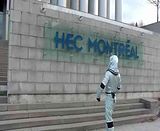 It's crazy not to have spent a weekend doing readings and writing assignments. I've actually managed to take a break from schoolwork the entire weekend to do some Christmas preparations, including decorating the tree.
Tomorrow I will return to my school routine by working on assignments at 8:30 in the morning. For now, I am enjoying the silent days and nights.